RIDGE coach Cat Jenks Knows what it's like to be a female mountain sports athlete. Cat has hiked the Pacific Crest Trail, skied in Japan, and she's taught more yoga classes than we can keep track of...
In this BLOG post Cat gives some insight to her journey from 'shy girl' to 'strong mountain athlete'.
For those of you that know me now, it may be hard to believe that I was once very shy. In my younger years, I was self conscious, lacked confidence, and would have been defined as shy. To be completely honest I still have some of those qualities and they surface into my life every once and awhile. I can say with confidence that the time I spent in the wilderness helped me become proud of who I am as a person today. I feel strong, independent and confident. I have found strength and power through my engagement with mountains, rivers, and lakes that I never thought would be possible.
During my childhood I had the luck of getting to spend my summers at a sleepaway summer camp for girls. The amount of strong, independent, and outdoor focused women I encountered while in my youth began to sculpt a change in how I viewed myself in this world. Watching my camp counselor pitch tents in a rainstorm for 10 cranky girls, cook dinner over a fire made with wet wood, and wake up early the next morning to make us hot chocolate inspired me more than she could ever know. Not many people look at someone cooking over a fire in the pouring rain and say to themselves "I think that is what I want to do with my life," but I did. I knew that I wanted to have a job that would instill that same confidence in young women that my role models growing up did. They were the type of people that could embrace adversity with grace and challenges with poise. I learned that they acquired these skills by spending time outdoors and I was determined to do the same.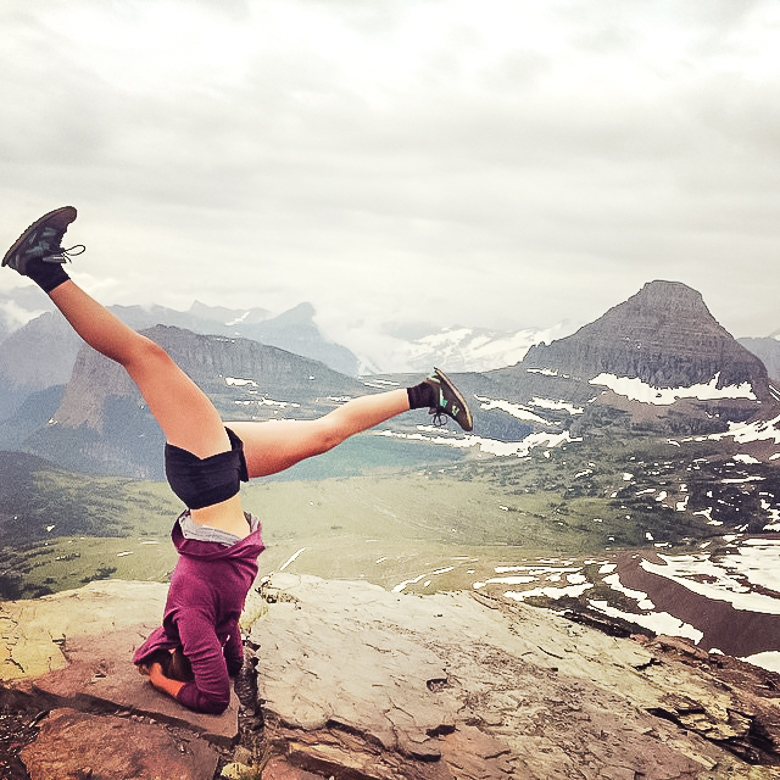 I was told that I am strong, can carry my own weight, and am still beautiful with cut knees, greasy hair, and dirt on my face (I am still rocking that look by the way). These words of encouragement began to change my outlook on life. When I was older and searching for more adventure in life, I left New England to explore the west. I ventured to Alaska, Washington, Oregon, and now find myself in Montana. I have sailed on the open seas, skied all over the pacific northwest, thru-hiked the Pacific Crest Trail and floated the majestic rivers of Montana. Spending time in the backcountry you learn nothing ever goes as planned. Things change that you can't predict and time and time again when you overcome those hurdles you start to slowly realize that you can overcome just about anything. It may not be graceful, easy, or pretty but at the end of the day you have learned a new skill by conquering the challenges presented. There have been times when I wasn't able to summit a peak, or have been hiking a trail that just seems to end, maybe it starts to rain like it has never rained before. These are the moments where there is a pause…. the uh-oh moment, each time I encounter these moments they seem to get a little shorter now that I have the strength and confidence to tell myself that I can handle (most) anything that comes my way.
To this day I am still learning to become stronger and even more confident within the outdoors and I hope this continues with each new experience. I cherish all of the strong women that I have been so lucky to spend time with in the backcountry. I have so many amazing female role models that inspire me to be a better outdoors women. Since moving to Whitefish, MT I have found that the women here are badass and I feel lucky to have fallen into such an amazing community.
My friend and co-worker at RIDGE Mountain Academy; Gaelen Engler is always moving higher and deeper into the mountains. She is not only extremely motivating but also a role model for me and so many other women striving to push the limits of the outdoors. Gaelen is one of those people who is always stoked to be in the mountains and never takes any moment spent outside for granted.
Gaelen and myself both realize the importance of our time in the outdoors surrounded by strong female role models. We started developing a camp for females at RIDGE Mountain Academy because we know that spending time pushing yourself in the wilderness with like minded ladies sculpted who we are today. We feel extremely fortunate to have the opportunity to take a group of young women into the mountains of Northwest Montana this summer. We are running a two week camp from July 11th-25th for girls in high school (ages 14-18). We will be taking the group backpacking, rock climbing, and whitewater rafting. We are beyond excited to play and laugh with a group of young ladies who what to start to realize their full potential. We all have strength within us but sometimes it takes sleeping under the stars and getting a little dirt on your knees to begin to see it.
Cat Jenks
Lead Coach
RIDGE Mountain Academy